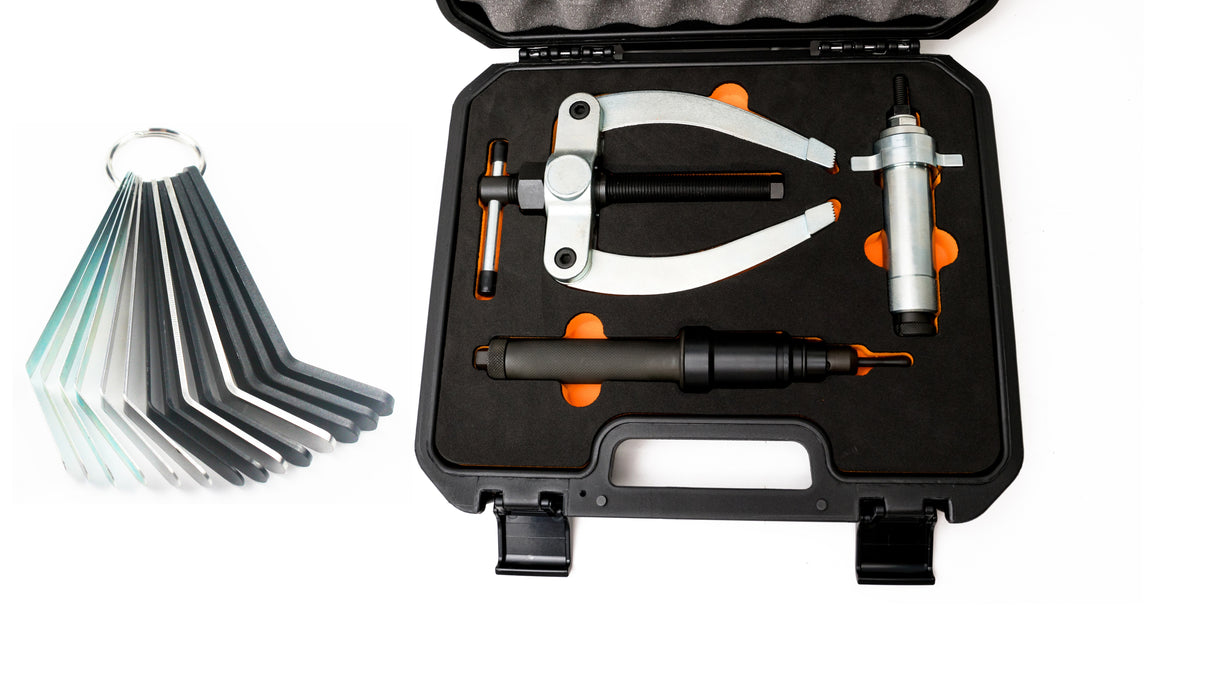 Volvo and Mack Feeler Gauge 14pc Jake Brake & Volvo Injector Cup Remover Bundle
Volvo and Mack Stainless Steel or Brass Injector Sleeve Cup Nozzle Tube Remover and Installer Tool Kit for D11 D12 D13 D16 FM12 Truck MP7 MP8 MP10 Engine OEM Alternative to 9986174 88800387 88800196.
The only kit in the market made to work on both stainless steel and brass cups. This kit includes High-Quality Aftermarket Equivalents of 9986174 replaces Flywheel bearing remover 9986173 and 9986179 and unit injector remover 9990006 Fuel Injector Remover, 88800387 Fuel Injector Sleeve/Tube/Cup Remover, 88800467 Installer includes 88800457 & 88880054, and 88800196 Installer. It will remove injector cups in the MACK MP7, MP8, MP9 and MP10. This works on brass cups 85104134 and stainless steel cups 21515329. Often used with 9998249. With this kit, you don't need 88800460. Improved injector sleeve installer for stainless steel sleeve. Alternative OEM reference numbers 88880211, 88880212, 88800513.
14pc Jake Brake Tool Set for Engine Intake and Exhaust Valve. 

Alternatives to 88880052, 85111377 and 88880053 

Used on intake and exhaust valve adjustment with or without engine brakes and engine brake rocker adjustment shims

Volvo and Mack 88880053 tool

 set contains 0.2mm, 0.3mm, 0.5mm, 0.6mm, 0.8mm, 1.0mm, 0.045" 1.6mm, 2.0mm, 2.3mm, 2.5mm, 3.5mm, 3.6mm, 4.2mm feeler gauges. 

Applications: 

MP7, MP8, MP10, D12, D13, D16 and other engines (refer to shop manual for proper use)

One year warranty 
Also Sold separately 2.5 MM & 3.5 MM (FEPRO1377-1)